Mobilsept™ Chemical free boat mildew removal with disinfecting/deodorizing in 60 minutes!
It is as universal, every yacht, boat, no matter how carefully maintained will get a case of undesired boat mildew eventually. After winter opening the hatch the boat owner always hoping for the mildew free condition but that`s almost never happens…. Seeing the dark blotches on charts, under bunk cushions, or on the bulkhead, they simply hope it will go away…
Easy solution to reinstate a perfect boat hygiene by performing the dual action Chemical Free Mobilsept™ Boat Robot disinfection/deodorizing treatment!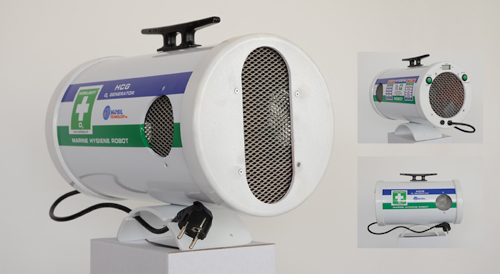 Mobilsept™ Boat Robot – Main Technical Details
- 3gr/hrs. or 6 gr/hrs. ozone output enough to treat 30sqm (320sqft) or 60 sqm (640 sqft) cabin area
- Industrial quality high out-put fan
- Center-left-right side air out let for maximum efficiency
- Stainless steel air grids
- Size: H 32cm 12″ L 38cm (15″) Ø 20cm (8″)
- Built in timer for hygiene and shock treatment
- Heavy duty corrosion free round housing
- Easy storage, simple to use
- Fully programmed automatic operation
Besides the climate, inside of a boat is perfect for mildew, but also there are plenty of delicacies for it to thrive on. Mildew feeds on the vegetable fibers found in clothing and cordage, as well as paper, leather, and any adhesives of animal or vegetable origin.
Dampness is essential to mildew, keep it mind you should not stow wet gear. Including here foul weather jackets, anchor lines because they are hard to dry even in ideal weather. If you leave your damp cockpit cushions you can expect a strong mildew presence up on return.
Mildew is one of many forms of fungus present everywhere in the world. A very primitive plant form feeds on other plants and produces microscopic seed like spores that float freely around the cabin. These spores are always present, but it takes a particular set of conditions to encourage their growth into the black and smelly blight.
To prevent the formation of mildew, try to reduce the humidity level inside your boat.
Good ventilation means a steady flow of air through all parts of the boat, not just the main cabin. When leaving your boat for more than a day or two, leave all drawers, lockers, and compartments. Put up all the bunk and seat cushions so air flows freely around them, and lift out several floorboards to ventilate the bilge as well.
However, even the best preventative measures sometimes are not enough, and you have to rid your boat of mildew. Several methods to handle the problem: cures by nature and with science based products.
Start with a complete cleaning and airing. Unfortunately mildew does find the way into the smallest cracks where hand cleaning using chemicals is not possible. Ozone will not remove any visible spots or marks. To remove the visibly effected areas use a low-phosphate soap for normal scrubbing and a mild alkali, such as washing soda or tri-sodium phosphate, for stubborn mildew, but be sure to rinse the area thoroughly. A good, strong, all-around solution is four quarts of fresh water, one quart of bleach, 2/3 cup of TSP, and 1/3 cup of powdered laundry detergent.
Once all necessary hand cleanings are done and all cleaned items are dry or removed the Mobilsept™ Boat Robot disinfection/deodorizing treatment can be performed.
The ozone gas produced by The Mobilsept™ Boat Hygiene Robot will get into every hidden corners, cracks, crannies, crevices which some yacht depending of the interior can have too many…and the performed the boat hygiene treatment will result a pathogen and odor free interior condition.
Before you start the boat disinfection treatment leave the cabinet doors open, put loosely out musty smelling gears and clothing, all will be odor free after the performed Mobilsept™ Hygiene Robot treatment.
Note: The level of ozone concentration of the Mobilsept™ Boat Robot is safe for all surfaces even in the event of heavily mildew affected cabins, where repeated (shock) treatments need to be performed.
Important: The level of ozone concentration needed to kill mold is much higher the level that is safe to breathe. During the Mobilsept™ Boat Robot treatment person or pets cannot be at present!
Mobilsept™ Boat Robot – Use it always as directed!
Mobilsept™ Boat Robot: The new Standard in Boat Hygiene